When E-Mail Is Not Just Mail Anymore: The History of Microsoft's Mail Clients
The following information is part opinion and part fact. Ruggiero AV Services (Joseph A. Ruggiero, Jr., author) makes no claim to performance of one e-mail client over another, except for what has been personally observed. This article does not even begin to touch on the various third-party e-mail clients available, some of which are "better" and more feature-laden than Microsoft's offerings. We present this as a personal account of our experiences with using and supporting Microsoft products, including Outlook, Outlook Express, and the new Windows Live Mail Desktop application. Some information for this article was provided by Wikipedia.
When Internet Explorer 4.0 was released, much controversy surrounded it, due to its "integrated" architecture. There was also a new e-mail client included, and it was a step up from the "Internet Mail and News" client featured with Internet Explorer 3.0. A notable feature of the new mail client, dubbed Outlook Express, was that it supported "HTML Mail" as opposed to plain text and Rich Text Format messages.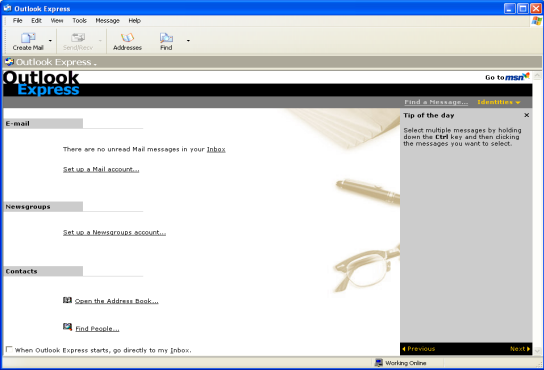 Outlook Express shared a similar name to Microsoft's business-level mail client, Outlook (97, 98, 2000, 2003, 2007, etc) but they were not the same. This was evident when Outlook Express users tried to trade mail messages with users of Outlook or Exchange, Microsoft's corporate mail server. Because Outlook messages tended to contain more data (meeting requests, task lists, etc), they could not always be read properly by Outlook Express.
Also, because the early focus was on the corporate side of e-mail, Outlook Express's early incarnations suffered from some flaws, most notably mail database corruption, causing lost messages, as well as security issues due to the newly implemented HTML message format. Since mail messages could now be mini "web sites" they were prone to the same script-execution bugs and viruses which plagued Microsoft's Internet Explorer browser. The latest updates to Outlook Express, now at version 6, fixes these flaws in the following manner:
Outlook Express now makes automatic backups of the e-mail database during compaction of messages.

HTML composing and reading is now off by default, in favor of plain-text messages.

Downloading of e-mail attachments and images is now disabled by default
One remaining Outlook Express bug that has survived in all versions is the inconsistent handling of secure or signed e-mail. Signed messages do not show up inline, but rather as attachments. Couple that with the fact that Outlook Express now disables attachments by default (though it does not remove them from the message), and you see the problem.
All this being said, Outlook Express was and still is fine for the average home user who had 1 or 2 e-mail accounts (OE allowed access to multiple accounts at once, including Microsoft's own Hotmail, a feature that Outlook itself lacked, for obvious reasons). The mail database, mentioned above, could easily be re-directed to another location, such as a second hard drive (but not a network drive), making mail backup and transfer to a new machine easier. This "re-routable database" feature, although not highly-publicized, was missing from Outlook, as well as later incarnations of Microsoft's mail clients, until the release of Windows Live Mail Desktop and even then, early versions of Live Mail Desktop were buggy in their implementation of this database or mail store.
Another point in favor of Outlook Express over any incarnation of Outlook, or early incarnations of Windows Live Mail Desktop is speed, especially when dealing with IMAP accounts. Outlook Express can access IMAP folders rather quickly, whereas Outlook and early versions of Windows Live Mail Desktop would hang for several seconds when accessing IMAP accounts.
Those die-hard Windows XP fans who are holding on to Outlook Express will be okay for the time being - Outlook Express will continue to be updated until Windows XP's End-of-Product Lifecycle. Microsoft now offers their next-generation mail software, called WINDOWS LIVE MAIL (DESKTOP) which can be downloaded for free. In fact, Ruggiero AV Services recommends that users first upgrade to Windows Live Mail from within XP, if planning to perform an upgrade to Windows Vista or Windows 7, since all account and e-mail message information will migrate over, and the built-in mail software (Windows Mail) will not be set as default. I describe Outlook Express's brother, Vista's "Windows Mail", as well as its own successor, Windows Live Mail, below:

Windows Mail was shipped with the Windows Vista operating system, as a successor to Outlook Express. It had minor interface changes, although it did borrow some features from Outlook 2003, including the right-hand "reading pane." Windows mail also featured internal changes which fixed some of Outlook Express's shortcomings.
Mail messages are now stored in individual files instead of a single database file. A transactional index database based on the Extensible Storage Engine enables real-time searching and improves the stability and the reliability of the stored data. In case of corruption, the indices can be rebuilt from the mail files.
Account setup information is no longer stored in the registry. It is instead stored alongside the mail itself, making it possible to copy an entire Windows Mail configuration and mail store to another machine in a single step.

Features like Bayesian

junk-mail filtering and top-level domain and encoding blocking have been added.

A phishing filter has been incorporated as well, protecting users from web sites that have been identified as being malicious.

Additionally,

Microsoft Help Groups

has been added, which is a preconfigured link to Microsoft's newsgroups. Some additional functionality has been layered on top of the standard newsgroup functionality to have individual threads be marked as a "question" or an "answered question". Postings may be rated as well.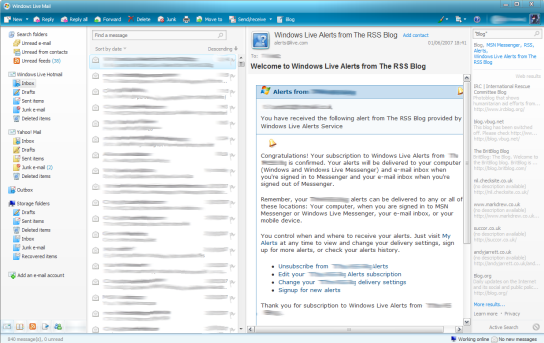 Windows Live Mail is developed by the same team that wrote Windows Mail for Vista. It takes the best of Vista's Windows Mail, and adds the following:
Similar visual style to the Windows Live theme
Synchronization with Windows Live Contacts
Support for RSS feeds, which requires and uses Internet Explorer 7's RSS capabilities, including the ability to reply directly via email to the author of an item that appears in an RSS feed, as well as multiple feed aggregation into a single folder
Multi-line message lists, as in Outlook
The usage of Emoticons in e-mails and other functions
In-line spell checking
Separate inbox folders for different POP accounts
Better picture/photo messaging (PhotoMail)
The final version of Windows Live Mail was released on November 6, 2007. It can be installed using Windows Live Installer.
Last personal note -- I was actually ready to give up on the newer versions of Microsoft's Mail clients, holding out like many with my tried and true Outlook Express, but can wholeheartedly say that Microsoft got it right with Windows Live Mail. It has what worked well in Outlook Express, and adds proper support for mail standards and also provides protection against modern-day e-mail threats. So, in answer to the question - is there hope for Outlook Express users? I say YES. If you plan to stick with Microsoft's consumer mail solutions, Windows Live Mail fits the bill perfectly.

GET WINDOWS LIVE MAIL -- http://get.live.com/wlmail/overview*
*Latest version -

2012 (Build 16.4.3508.0205

)

The latest version of Windows Live Mail features bug fixes and improvements, as part of Windows Essentials. Windows Essentials also includes Windows Messenger, Photo Gallery, Movie Maker, Writer, Family Safety, Windows SkyDrive, Bing Bar, Messenger Companion, Microsoft Silverlight, and Outlook Connector Pack (Microsoft Outlook Hotmail Connector and Social Connector Provider for Windows Messenger). You can install just Mail or all of Windows Essentials.
February 2013: Microsoft Officially Launches "Outlook.com" to "replace" Hotmail.